Severe Weather Watches
Valid to 09:00pm Monday, 23-Oct-2017
Severe Weather Watch
Issued by MetService at 9:21am Monday 23-Oct-2017
Burst of heavy rain for the ranges of eastern Bay of Plenty this afternoon and evening.

A low and associated front is forecast to cross the northern North Island today, bringing rain with brief heavy falls and possible thunderstorms - see latest Severe Thunderstorm Watch for further details. The heaviest falls are likely in the ranges of eastern Bay of Plenty this afternoon and evening
Heavy Rain Watch
Area: Ranges of eastern Bay Of Plenty
Valid: 9 hours from 12:00pm to 9:00pm Monday
Forecast: Rain is expected to become heavy for a time during this afternoon and evening, with possible thunderstorms.
This watch will be updated by: 9:00pm Monday 23-Oct-2017
A service provided through a contract with the Crown
(C) Copyright Meteorological Service of New Zealand Ltd 2017
Issued: 09:21am Monday, 23-Oct-2017
Severe Thunderstorm Watches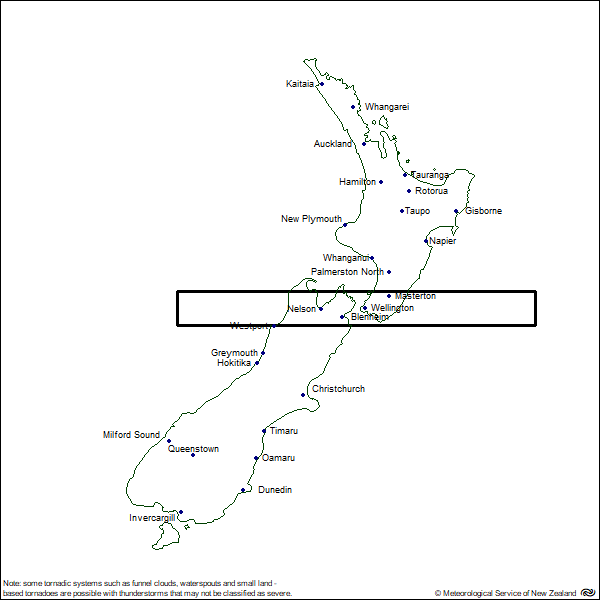 Severe Thunderstorm Watch in effect for Northland, Auckland, Coromandel Peninsula, Waikato, Bay Of Plenty
Valid to 08:00pm Monday, 23-Oct-2017
A low and associated front are forecast to cross the northern North Island today bringing a period of heavy rain and a moderate risk of thunderstorms. There is also a risk of localised downpours with or without thunderstorms about parts of Bay of Plenty this afternoon and early evening, mainly in the east, but also possibly about coastal areas further west, with rates of 20 to 30mm per hour. Rainfall of this intensity can cause localised surface flooding, slips and make driving hazardous.
Note: A Severe Thunderstorm Watch means conditions are favourable for severe thunderstorms in and close to the watch area. People in these areas should be on the lookout for threatening weather conditions and monitor for possible Severe Thunderstorm Warnings.
For information on preparing for and keeping safe during a storm, see the Civil Defence Get Ready Get Thru website
Issued by: Andy Downs
This watch will be updated by: 02:00 pm Monday 23 October 2017
Issued: 09:17am Monday, 23-Oct-2017
Special Weather Advisory
No Advisory In Effect